Mission and aims
Chair:
Hein Imberechts
Co-chairs:
Hermann Schobesberger and
Loukia Ekateriniadou
Mandate:
Permanent
Members:
25 countries + EC and key advisors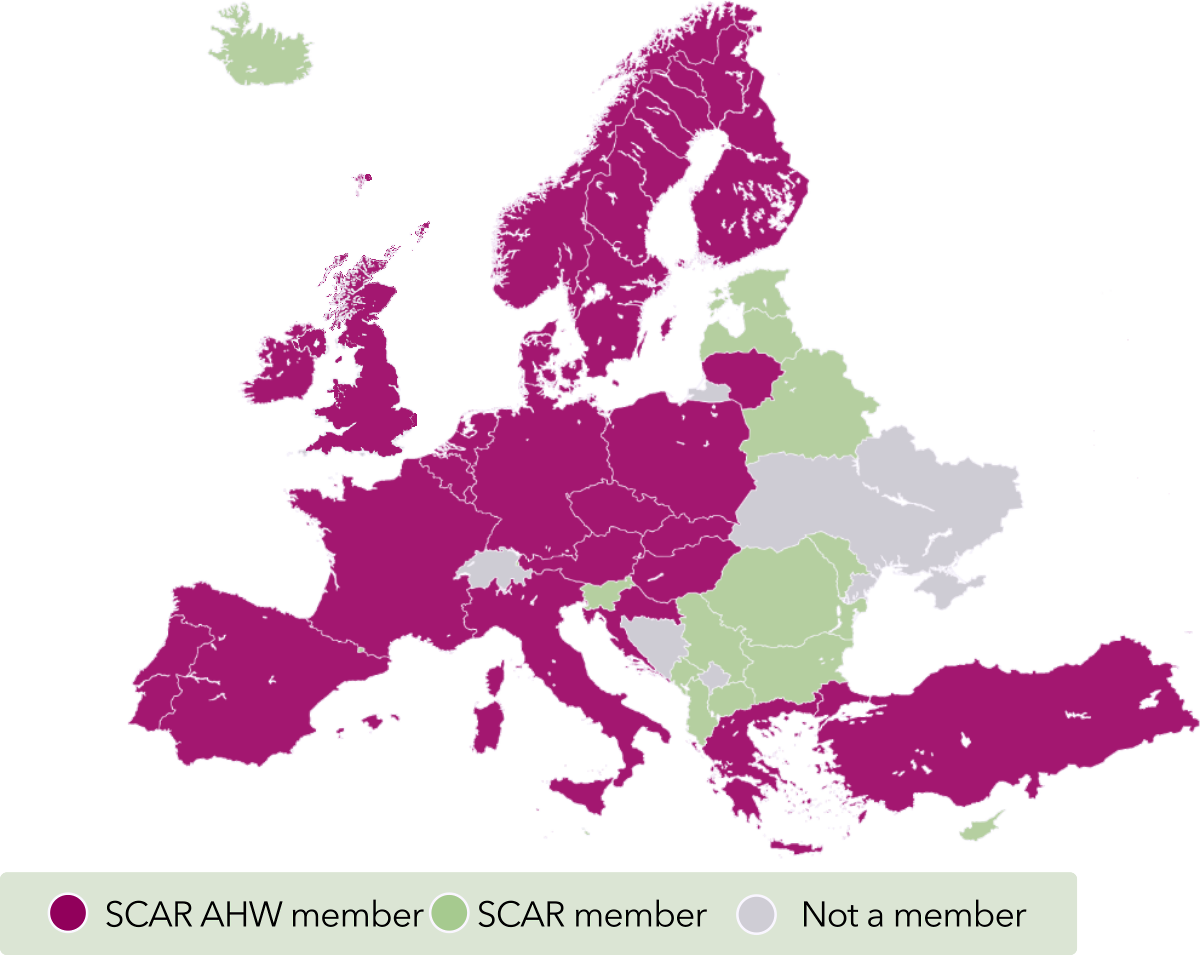 Strategic objectives
Through SCAR, support the European Commission in its AH&W legislation and policy.

Contacts with SCAR (Steering Group and Plenary), DGs RTD, AGRI, SANTE and MARE for updates on relevant policies and research needs; explore communication, dissemination and exploitation to gain impact.
Analyse complementarities and synergies with other SCAR WG.

Bring together funders, experts and private partners in the European AH&W area.

Strengthen integration between animal health and animal welfare actors in Europe, incl. research consortia, sector organizations and industrial partners.

Encourage the AH&W cooperation within countries.
Operational objectives
Create and maintain a European AH&W forum: organize meetings, when possible aligned with other AH&W networks.

Links with ICRAD, STAR-IDAZ, DISCONTOOLS, EUP AH&W; as for the AW subgroup, with the three EU AW Reference Centres (incl. the planned Fish EURC).
Share info & experience within countries, encourage national/regional AH&W mirror groups.

Tighten bonds with peer SCAR WG to look for complementarities (do more) and avoid overlap: SAP, Fish, AgroEcology, Food Systems.

To define the boundaries, in scope / out scope.

Align AH&W research agendas.

Regular exchange of AH&W research priorities and other relevant activities; SR(I)A of EMIDA, ANIHWA, ICRAD and EUP AH&W.
Forward studies to timely recognize possible emergencies, preparedness, disease prevention and control.

Search for relevant research funding opportunities.
When requested (e.g. new trends/ monitoring & surveillance) or in case of emergencies, explore possible joint initiatives.
Planned activities
Organise at least two plenary meetings including satellite meetings of subgroups Strategy & Foresight Unit and Animal Welfare.
Update CWG members on the progress of the EU Partnership on AH&W.
Share information on ongoing research activities and options for collaboration, and on emerging diseases.
Maintain and consolidate interaction with international organisations (EFSA, WOAH, COST), industries (COPA and COGECA, Animal Health Europe).
Continue liaising with large projects STAR-IDAZ IRC, ICRAD, DISCONTOOLS.
Write position paper on relevant topics where applicable.
Page updated in November 2023