Mission and aims
Chair:
Hein Imberechts
Co-chairs:
Hermann Schobesberger and
Loukia Ekateriniadou
Mandate:
Permanent
Members:
25 countries + EC and key advisors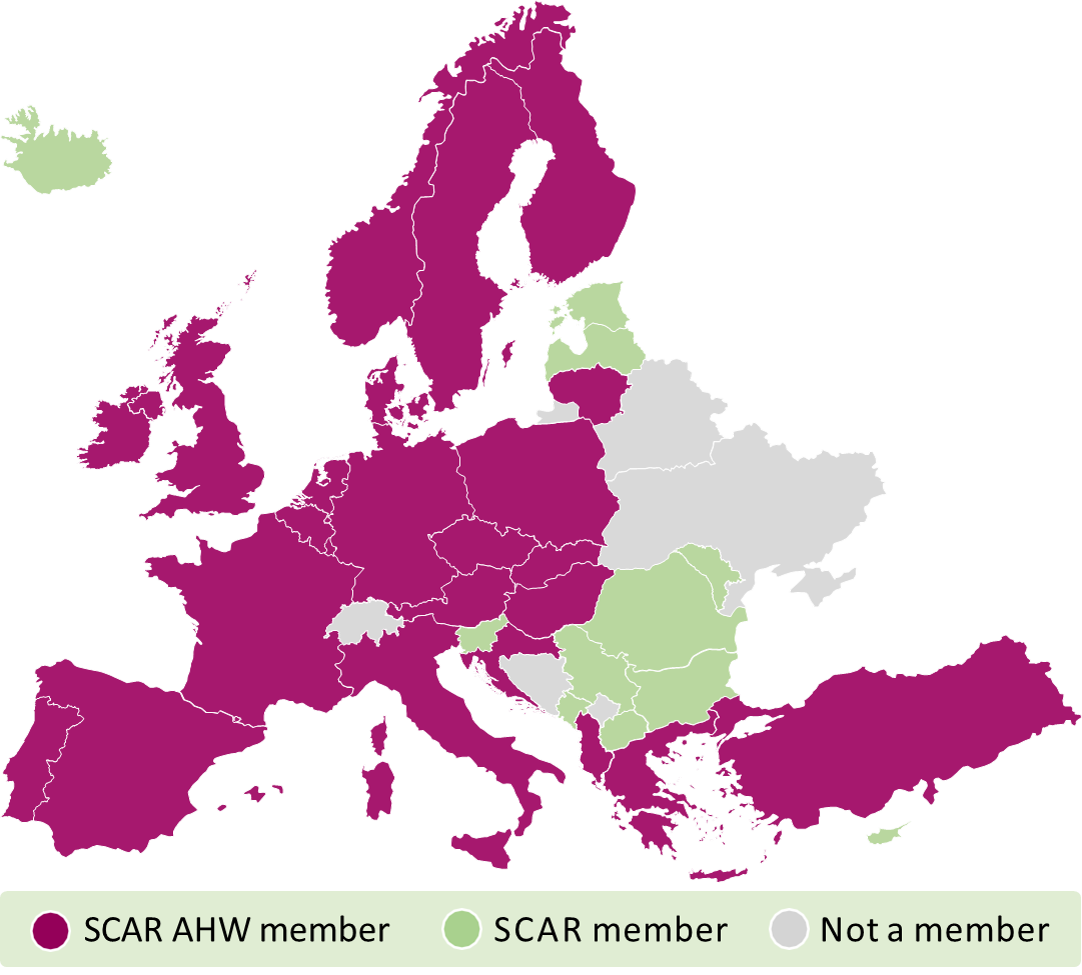 Overview members SCAR AHW – update March 2022

Mission of the SCAR AHW
Establish a durable and focused network of AH&W authorities, research funders and programmemanagers from MS & AS, who have privileged contacts with public and private stakeholders relevant to AH&W, including the EC DG-AGRI.
Provide a forum leading to improved collaboration on research prioritisation and procurement to create the critical mass and focus necessary for delivering the animal health and welfare research needs of our policy makers and the European livestock industry.
Cooperate through SCAR with other relevant Working Groups and DG-RTD.
Objectives
Sharing information on relevant research projects.
Coordinating and aligning research activities, mainly through ERA-Nets and the Partnership AH&W.
Working towards a common research agenda in AH&W.
Working towards mutual research funding activities in the field of animal health, fish and bee health, and those conditions which pose a threat to human health.
Mapping the landscape in relation to provisions of research funding opportunities and facilities, including capacities and research infrastructure.
Planned activities
Organise at least two plenary meetings including satellite meetings of subgroups Strategy & Foresight Unit and Animal Welfare.
Prepare the dossier, SRIA and proposal for the EU Partnership on AH&W (EU Work Programme 2023-2024) and work towards a joint implementation of the Partnership.
Share information on ongoing research activities and options for collaboration, and on emerging diseases.
Maintain and consolidate interaction with international organisations (EFSA, OIE, COST), industries (COPA and COGECA, Animal Health Europe).
Continue liaising with large projects STAR-IDAZ IRC, ICRAD, One Health EJP, DISCONTOOLS.
Write position paper on relevant topics where applicable.