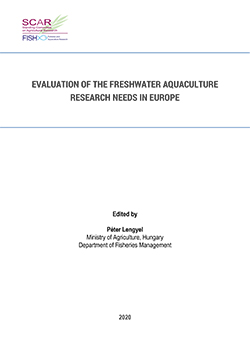 EVALUATION OF THE FRESHWATER AQUACULTURE RESEARCH NEEDS IN EUROPE"
As a result of the discussions about EU aquaculture research priorities during the meetings of the Strategic Working Group on Fisheries and Aquaculture of the Standing Committee on Agricultural Research (SCAR-Fish), it was realized that freshwater issues were strongly underrepresented in the fisheries and aquaculture research priority list. To determine the freshwater aquaculture priorities in the EU and strengthen this topic, an ad-hoc working group was established in the frame of SCAR-Fish at the 10th SCAR-Fish Meeting on 8 September 2015.
Altogether 15 Member States and 4 non-EU representatives of the main three sectors – governance, industry, research – took part in the prioritization work. As a result of the operation of the sub-group, a priority list was prepared on freshwater aquaculture research needs distinguishing the highest, medium-high and medium priorities.
The document was prepared on the basis of (1) the list of freshwater aquaculture research priorities collected within the frame of the "Freshwater aquaculture" sub-group of SCAR-Fish and discussed during subsequent SCAR-Fish and Friends of Freshwater Fisheries meetings; (2) an International workshop on freshwater aquaculture research priorities in Europe held in Tartu, Estonia, on 8-9 May 2019; and (3) prioritization questionnaires distributed at different aquaculture events.
See the document here