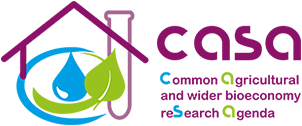 Summary of the context and overall objectives of the project
The overall objective of CASA is to support and facilitate the development of a consolidated Common Agricultural and wider bioeconomy reSearch Agenda within the European Research Area.
CASA achieves this by supporting the Standing Committee on Agricultural Research (SCAR), which has already contributed in the past significantly to this objective, in its efforts to move to the next level of performance as a research policy think tank. SCAR was established in 1974 through a Regulation of the Council of the EU on the coordination of agricultural research. Since it was re-launched in 2005, SCAR has grown to become a respected source of advice on European agricultural and wider bioeconomy research, along with being a major catalyst for the coordination of national research programmes, where it has helped shape an integrated European Research Area. SCAR plays an important role in coupling R&I and in removing barriers to innovation, and aims to make it easier for public-public and public-private sectors to work together in delivering innovation that tackles the challenges faced in the bioeconomy area.
SCAR currently involves representatives from 37 different countries, the members being representatives of ministries (or other organisations such as research councils) from all EU Member States (MS), with Candidate and Associated Countries (AC) as observers. SCAR delivers through the SCAR Steering Group (SG) and various SCAR Strategic and Collaborative Working Groups (SWGs and CWGs), each with its own responsibilities but, ultimately, reporting to the six-monthly plenary meeting of official delegates. CASA supports SCAR by fostering cooperation, coordination and information exchange, as well as facilitation and support for streamlining research policy, in the Bioeconomy and closely related fields.
The four specific objectives of the CASA project are:
Increased and broadened participation, interaction and collaboration of MS and AC with each other and also with the Directorate-Generals (DG) of the European Commission in the different SCAR bodies
Improved quality of outputs and outcomes of SCAR and its SWGs and CWGs creating added value for greater impact
Strengthening the production of more strategic policy advice for the coming years improved by SCAR within the evolving landscape of the broader bioeconomy based on an increased and broadened participation facilitated by CASA
Improved overall organisation, communication and dissemination of SCAR activities, outputs and outcomes for greater impact
To address the 1st specific objective of CASA, the previous and current participation of MS, AC and EC DGs in SCAR and its bodies was assessed. Results were discussed in frame of the SCAR Conference in Tallinn, Estonia, 4th - 5th December 2017.
To increase visibility, highlight the relevance of SCAR and to motivate new and less active countries to increase their involvement and participation in SCAR, first national CASA SCAR meetings were implemented in Spain, Bulgaria, Hungary, Greece and Italy. These meetings are means to directly give impetus for the set-up of intergovernmental working groups to participate more actively in the SCAR bodies.
To support newly appointed country representatives in SCAR bodies to get acquainted faster with SCAR and its context, and to learn from well-experienced delegates, a mentoring programme has been established.
The 2nd objective is addressed by providing support and facilitation to the WGs as well as the Foresight Working Group and the EC. So far, SWG Bioeconomy, SWG Forest, SWG AKIS and SWG ARCH benefit from facilitation support by CASA. Support to expert studies are another important CASA instrument which has been utilised by several WGs, e.g. to assess funding strategies and programmes in the EU, identify gaps and adjust existing ones or identify new WGs. One of the main activities of SCAR is the Foresight Exercise. Implementation and the impact of the 4th Foresight Exercise outcomes have been assessed and recommendations for future improvement were made.
The 3rd objective is mainly addressed through assessments on Strengths, Weaknesses, Opportunities and Threats (SWOT) of the SCAR. The results provide a detailed overview on the state of play and analysis within SCAR. Another SWOT assessment was carried out of the bioeconomy R&I policy landscape in achieving transformative change. The study reviewed some of the principal R&I policy frameworks existing and adopted at EU level to support the bioeconomy, and in particular across the DGs of the EC. Building on results of the studies, opportunities for improvements have been highlighted to give further impetus to increased participation and use of SCAR as a policy think tank influencing national and European research strategies and programmes. Furthermore, guidelines for initiating and setting up new SCAR activities were developed and published.
To address the 4th specific objective, communication and dissemination materials have been developed to increase visibility of SCAR and its outcomes and products such as templates and flyers about the SCAR bodies. Firstly, CASA has created this new official SCAR website (https://scar-europe.org/) which replaced the previous SCAR website hosted by the EC and is currently maintained by CASA. Secondly, CASA provides support in harmonising the layout of communication tools and media of all SCAR bodies to strengthen the branding and visibility of SCAR. Thirdly, two issues of the new SCAR Newsletter were published per year prior to SCAR Plenary meetings. They are publicly available and disseminated to all SCAR contributors. The Newsletters focus on activities of the WGs as well as CASA activities and other relevant actions.
By support of CASA it is anticipated that SCAR and its bodies are brought to the next level of performance as a research policy think tank in the following ways:
SCAR Conferences provide opportunities to discuss in dedicated sessions on SCAR relevant topics.
SCAR National Meetings and specific workshops aim at fostering participation of more countries in SCAR activities and to act as linking-pins between SCAR and national levels. The SCAR Mentoring Programme initiated by CASA creates an environment of cooperation and knowledge exchange, thus supporting the active engagement of new delegates in SCAR bodies.
Facilitation of SCAR WGs and support of external expert studies will contribute to streamline research policy, also influencing national (ERA-NET COFUND, JPI, etc.) and European (Horizon 2020, future R&I framework programmes, Food 2030 strategy, etc.) research strategies and programmes.
The overall organisation and coordination of SCAR is enhanced by direct support to development of the SCAR Rolling Work Plan. Workshops supported by CASA contribute to improve the alignment between the general activities of the WGs and the needs of SCAR SG. CASA fosters an improved quality of outputs and outcomes of SCAR, e.g. by development of an Impact Assessment Framework, and creating a structure for future Foresight Exercises.
CASA's research efforts, assessments and analyses have already revealed opportunities to further shape the bioeconomy R&I landscape. They foster the role of SCAR as a major catalyst for European and national research strategies and programmes.
This SCAR Website hosted by CASA will improve accessibility of information about SCAR and the SCAR WGs, as well reports and analyses, creating a platform for direct communication and dissemination, as well as involvement and alignment of activities of the SCAR WGs.
This Coordination and Support Action is funded through Horizon 2020,

Societal Challenge Food Security, Sustainable Agriculture and Forestry, Marine, Maritime and Inland Water Research and the Bioeconomy.