€ 897 million for Cluster 6 Horizon Europe calls in 2023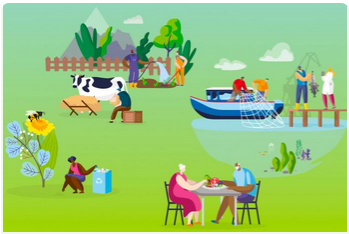 Horizon Europe is the largest source of public funding for research and innovation from the European Commission. It has a total budget of € 95.5 billion for 2021-2027, of which around € 9 billion is foreseen for Cluster 6 on Food, Bioeconomy, Natural Resources, Agriculture and Environment. Around € 897 million is dedicated to the Cluster 6 calls in the 2023 Work Programme. The Info days to present the upcoming calls for Cluster 6 will take place on 13 and 14 December, followed by a brokerage event on 19 December.
The Cluster 6 Work Programme calls are structured into 7 "destinations":
Biodiversity and ecosystem services
Fair, healthy and environment-friendly food systems from primary production to consumption (Farm2Fork)
Circular economy and bioeconomy sectors
Clean environment and zero pollution
Land, ocean and water for climate action
Resilient, inclusive, healthy and green rural, coastal and urban communities
Innovative governance, environmental observations and digital solutions in support of the Green Deal
All funding information and details on how to apply are on the Funding and Tenders portal.
Tips:
On 13-14 December, the European Commission is organising the Horizon Europe Info days on Cluster 6 to present the new calls and to stimulate participation. On 19 December an online brokerage event will take place. More info here.
The Support Facility for 'Innovation and knowledge exchange, including EIP-AGRI' of the European CAP Network has published a brochure that provides a clear overview of all relevant calls for 2023. Download here
Cluster 6 of the Horizon Europe Work Programme provides opportunities to reduce environmental degradation, halt and reverse biodiversity decline, improve the sustainability of the farming and forestry sectors, and better manage natural resources in urban and rural areas. It will help to ensure food security and a clean and healthy environment through knowledge, innovation and digitalisation in agriculture, food systems and forestry. Cluster 6 projects also support the transition to a low-carbon, resource-efficient circular economy and a sustainable bioeconomy.